Been busy this weekend yet again. Found some gorgeous faceted agates in vibrant colors.
Excited to present to you the Ahkriti Advika collection this festive season!
An earthy brown agate to which I have added a beautiful copper butterfly pendant surrounded by 6mm cornelian gemstones. This set comes with earrings.
Faceted ink blue agate beads with turquoise beads surrounding a navaratna style silver pendant.
Close up of the pendant
Gorgeous rust orange faceted agate with a silver plated floral etched focal pendant.
All the necklaces come with matching earrings!
I am in love with these new creations made by yours faithfully. So tempted to keep 'em all!
Linking this to Patricias's
and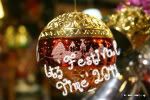 Emreen's